Discover the Uncharted Beauty of Galapagos
Explore Its Flora, Fauna, and Fascinating Geology!
A trip to the Galapagos Islands is a once-in-a-lifetime experience for most people and therefore should be planned carefully. It also requires thoughtful planning because of the remote location and special regulations of the national park.
The Islands & Their Animals
The Galapagos Islands are an archipelago of 14 larger islands and many islets. The archipelago lies about 600 miles (almost 1000 km) west of the Ecuadorian mainland in the Pacific Ocean. Each island has its own flora and fauna and some species are endemic to one particular point or island – this is what makes Galapagos so special. Some of the most representative animal species of the Enchanted Islands are the giant tortoises, blue-footed boobies, marine iguanas, and sea lions. Although most people visit the Galapagos for their wildlife, the islands' geology is equally fascinating.
The Galapagos archipelago was formed millions of years ago and while some of the first islands of the archipelago have disappeared again below the sea surface, the youngest islands in the west are still growing due to continuous volcanic activity.
Due to their unique plant and wildlife on land and underwater and their breathtaking scenery, the Galapagos Islands were declared a World Natural Heritage Site by UNESCO in 1979.
Click on the Tabs Below for More Information
How to get to Galapagos
The Galapagos archipelago lies almost 600 miles off the Ecuadorian coast in the Pacific. Therefore, the only way to get there is by plane. Direct flights are available from Quito (2h 10) and Guayaquil (1h 50). The most commercial airport is located on Baltra Island (GPS) just north of Santa Cruz Island but there are also flights to San Cristobal Island (SCY).
Expenses to be Taken Into Account
Apart from your Galapagos cruise or land-based tour, there are some compulsory expenses that have to be paid by every Galapagos visitor. These expenses are:
Flight ticket to Galapagos ($400-$600, varies depending on the airline, route, and season)
Galapagos National Park entrance fee ($100 per adult, $50 per child – paid in cash upon arrival in Galapagos)
Migratory control card "TCT" ($20 per person – paid in cash at Quito or Guayaquil airport)
Depending on your tour, you may incur some other expenses like additional meals and beverages, tips (expected but not mandatory), equipment rental, travel insurance etc.
Minimum Stay in Galapagos
Considering that it costs roughly $600 per person to just get to Galapagos, we recommend spending at least three nights in Galapagos. You also have to take into account that most flights arrive and leave around noon, so the first and last day will be very short.
Cruise or Island Hopping?
When starting to plan your trip to the Galapagos Islands, you will first have to face the choice whether to explore the archipelago by cruise or island hopping. If you are still unsure, here's a general list of the pros of each travel type:
Galapagos Cruise
Travel even to the furthest islands
Visit more islands in less time
Island Hopping
Flexible (dates and activities)
Generally less expensive (for some options)
Travelling to Galapagos with Kids
In general we recommend to travel to the Galapagos Islands only with children who are at least 6 years old because guides often give longer explanations about the wildlife during the visits and there are a lot of national park rules to follow. So, kids usually enjoy the tours better from the age of 6 onwards.
However, children of all ages are welcome in Galapagos, and Midland Travel will always look to find the perfect tour for your family.
Some cruises have strict child policies but others offer special programs for children and some even family departures. Contact one of our Galapagos experts to learn more about the different tour options for families.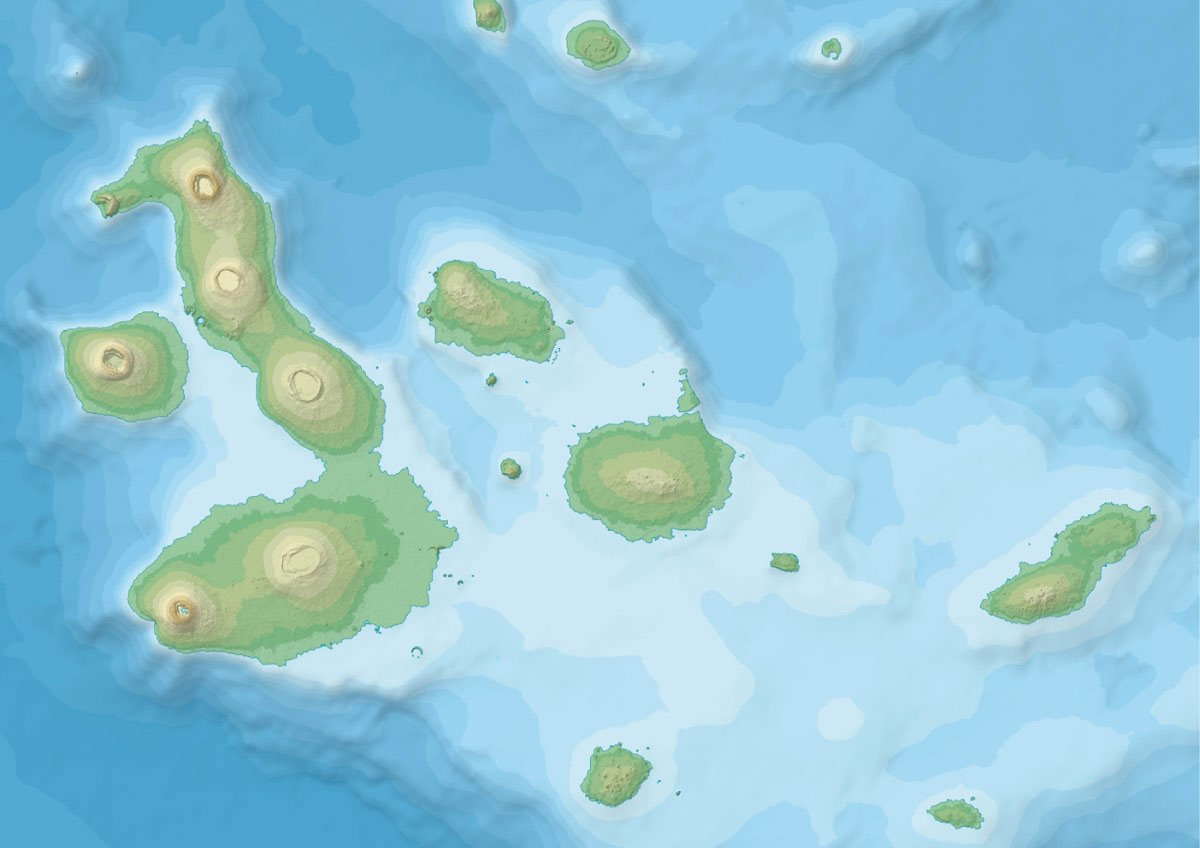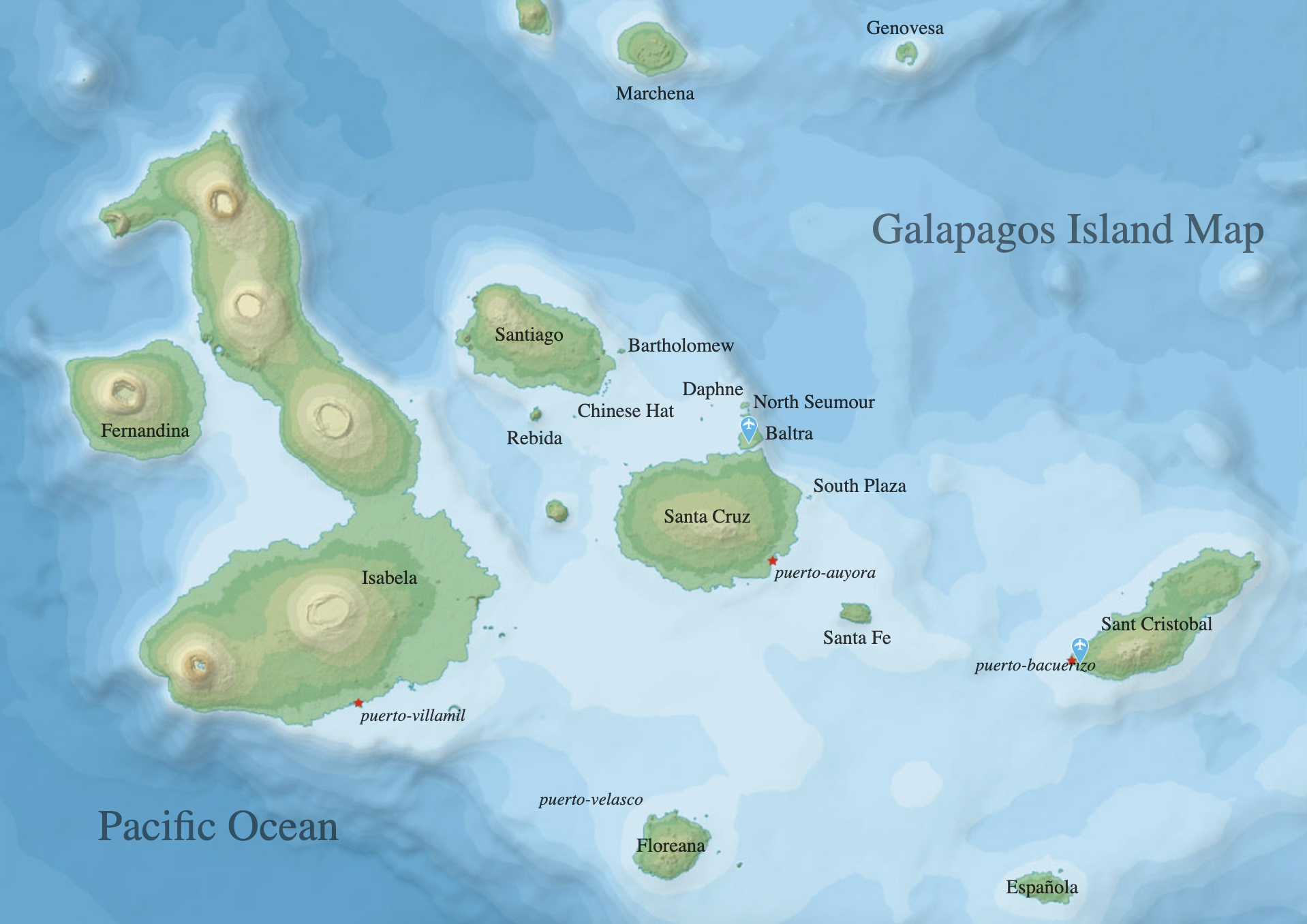 Galapagos Island Map
Pacific Ocean
Fernandina
Isabela
Marchena
Genovesa
Santiago
Bartholomew
Rabida
Chinese Hat
Daphne
North Seymour
Baltra
South Plaza
Santa Cruz
Santa Fe
San Cristobal
Floreana
Española
Puerto
Villamil
Puerto
Baquerizo Moreno
Puerto
Velasco Ibarra
Puerto
Ayora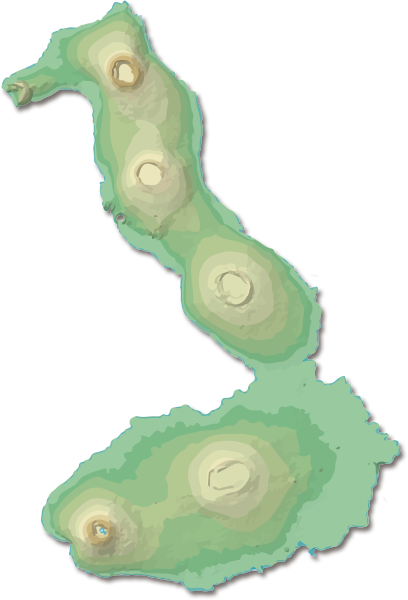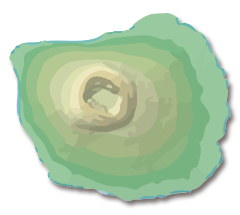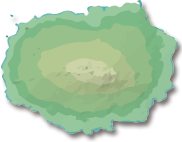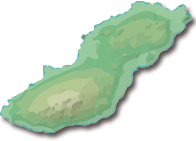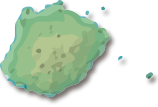 Visitor Sites
Albemarle Point
Cabo Rosa
Elizabeth Bay
Moreno Point
Sierra Negra Volcano
Tagus Cove
Tintoreras Islet
Urbina Bay
Vicente Roca Point
Villamil Port
Isabela Island
The seahorse-shaped island Isabela is by far the largest Galapagos Island and also one of the youngest ones. This western island is also known as Albermale Island and features several more or less active volcanoes. There is a small town called Puerto Villamil in the southern part of Isabela Island but most of the island remains pristine. The visitor sites along the northern and western coast of Isabela Island are considered one of the Galapagos highlights because of the abundant wildlife you can find here including penguins and the unique flightless cormorants.
Fast Facts
Largest and one of the youngest islands in Galapagos
One of only four inhabited islands (Villamil Port)
Exceptional wildlife (penguins, flightless cormorants)
Visitor Sites
Espinosa Point
Mangle Point
Fernandina Island
Fernandina is one of the most pristine islands in the world because it does not contain any introduced mammal species. The island itself is a shield volcano and lava fields dominate the island's landscape. The main attraction of Fernandina Island is the world's largest colony of marine iguanas but you can also observe sea lions, shore birds, and the unique flightless cormorants. If you are lucky, you might even stumble upon some penguins.
Fast Facts
Westernmost and youngest of the Galapagos Islands
Third largest island of the archipelago
One of the world's most active volcanoes
Largest colony of marine iguanas
Possible Activities
Dinghy ride
Snorkeling
Marchena Island
Due to its location in the far north of the Galapagos archipelago and because there is no official land visitor site, only a handful of cruises feature Marchena Island in their itineraries. From the dinghy boat, you can appreciate the island's landscape including some coves and a black-sand beach. The fact that you cannot go onshore is no reason to be sad as the highlight of Marchena is the sea that surrounds it. The deep blue and calm water and Marchena Island's underwater topography make a great snorkeling site.
Fast Facts
Rarely visited island
Excellent snorkeling site
Location: Northern Galapagos
Visitor Sites
Darwin Bay
Prince Philip's Steps
Genovesa Island
Tower Island – how Genovesa is also called – is a caldera that is almost entirely submerged. The island is a bird paradise par excellence. It is the nesting site of hundreds of red-footed boobies, frigate birds, and Nazca boobies. Maybe you will even see one of the well-camouflaged Galapagos owls that hunt storm petrels by day. Genovesa is also a superb snorkeling site. During a deep-water snorkeling session, you can see large rays and fish.
Fast Facts
Best place to see red-footed boobies and Galapagos owls
Excellent deep-water snorkeling
Home of the smallest marine iguanas
Visitor Sites
Buccaneer Cove
Egas Port
Espumilla Beach
Sullivan Bay
Santiago Island
Santiago Island, also known as James Island, is one of the most scenic islands in the Galapagos. Although Santiago Island is not inhabited nowadays, there were several colonization attempts, and there are still remaining signs of it. The island was also frequented by pirates in the past. Probably the most famous visitor of Santiago Island was Charles Darwin. He spent most of his time on this island during his Galapagos visit, and it was right here that he first noticed the differences between species according to their habitat.
Fast Facts
Scenic visitor sites
Interesting history and captivating stories
Visitor Sites
Bachas Beach
Black Turtle Cove
Carrion Point
Charles Darwin Station
Dragon Hill
Highlands
Tortuga Bay Beach
Twin Craters
Whale Bay/Eden Islet
Santa Cruz Island
Due to its centrality, Santa Cruz is the most commercial island of the Galapagos archipelago. It is one of only four inhabited islands, and its town Puerto Ayora is the most populous one in Galapagos. Most Galapagos accommodation facilities are located in Puerto Ayora, and most tours start from the airport of Baltra that lies to the north of Santa Cruz. Santa Cruz Island has numerous visitor sites. The most visited ones by cruises are the tortoises breeding center at the Charles Darwin Station and the Highlands of Santa Cruz.
Fast Facts
Commercial center of the Galapagos Islands
Puerto Ayora town
Location of the Charles Darwin Station
Visitor Activities
Hiking
Snorkeling
Dinghy Ride
Kayaking
Rabida Island
The highlight of Rabida Island is its red sand beach. The color is caused by a high iron content in the soil. The small island is located in the center of the Galapagos Archipelago and is also known as Jervis in English. With its red soil, green cacti on land, and turquoise water surrounding the island, this place is perfect for capturing landscape photos. During a short hike, you can observe various species of Darwin's finches and coastal birds.
Fast Facts
Breathtaking landscape
Birdwatching (land, coastal, and seabirds)
Airlines
Avianca
Latam
Equair
Baltra Island
Baltra Island, also known as South Seymour Island, was a US Air Force base during World War II. After the war ended, the facilities were handed over to the Ecuadorian government. The island is now home to the ecological Seymour airport of Baltra, one of only two airports that connect the Galapagos Islands with the mainland. Due to its strategic location in the center of the archipelago, Baltra airport serves as the arrival point for most Galapagos visitors and the starting point for most Galapagos tours. Baltra Island is separated from the Island of Santa Cruz by a small channel called Canal de Itabaca.
Fast Facts
Galapagos' most commercial airport (GPS)
No accommodation facilities
Location: Center of the Galapagos Islands
Activities
Hiking
Dinghy ride
Snorkeling
Kayaking
Santa Fe Island
The Island of Santa Fe, also known as Barrington Island, is located in the central part of the Galapagos archipelago. Your visit starts with a wet landing at a picturesque bay where sea lions welcome you. The calm and crystal-clear water make an excellent snorkeling spot. With a little luck, you can see Galapagos hawks from the boat or during the hike. The island is home to the Santa Fe land iguana that can be found nowhere else in the world. The giant Opuntia cacti are the highlight of the island's flora, with some of them growing over 10 meters tall.
Highlights
Endemic land iguana
Giant Opuntia cacti
Calm bay, excellent for snorkeling
Visitor Sites
Cerro Colorado
El Junco Lake
Interpretation Center
Kicker Rock
Lobos Islet
Natural Galapaguera
Pitt Point
Witch Hill
San Cristobal Island
The Island of San Cristobal, also known as Chatham, is one of only four inhabited islands of the Galapagos archipelago. It is home to the town of Puerto Baquerizo Moreno, which is the capital of the Galapagos province and the political center of the islands. The airport of San Cristobal is one of only two airports that connect the Enchanted Islands with the mainland. San Cristobal Island, located in the far east of the archipelago, is not as commercial as Santa Cruz but still serves as the starting point of many cruises and tours.
Fast Facts
Galapagos capital: Puerto Baquerizo Moreno
Airport with daily flights from the mainland
Easternmost island of the Galapagos
Visitor Sites
Asilo de la Paz
Champion Islet
Cormorant Point
Devil's Crown
Loberia Beach
Post Office Bay
Puerto Velasco Ibarra
Floreana Island
The southern island of Floreana, also known as Charles Island and Santa Maria Island, captivates with its fascinating history and intriguing stories about its first residents. It is one of only four inhabited islands in the Galapagos archipelago. Most of its inhabitants live in the small town of Puerto Velasco Ibarra. Floreana Island is home to one of the most unusual post offices in the world. It was established in the 18th century by whalers and is still working in its traditional way. Besides the interesting historic sites, Floreana Island also features beautiful beaches and excellent snorkeling sites.
Fast Facts
Fascinating human history
Send postcards from Post Office Bay
Location: Southern Galapagos
Visitor Sites
Suarez Point
Gardner Bay
Española Island
As one of the oldest islands, Española, also known as Hood, is highly eroded and therefore rather flat. The island is already in the process of sinking back into the depths of the ocean. Located in the southeast corner of the Galapagos archipelago, Española is without a doubt the southern highlight of the Galapagos due to its abundant wildlife. The most iconic species found on Española Island include the colorful marine iguana, the Galapagos waved albatross that stays here from April to December, and the blue-footed booby.
Fast Facts
Location: Southeast corner of the Galapagos
Exceptional wildlife
One of the oldest islands in Galapagos
Possible activities
Dinghy ride
Hiking
Snorkeling
Bartholomew Island
Probably the most famous Galapagos picture shows the breathtaking view from the lookout point on Bartholomew Island. A steep trail including stairs leads from the shore to the viewpoint from where you can see several neighboring islands and the magnificent Pinnacle Rock – the landmark of Bartholomew Island. The landscape of the island resembles the one you would find on the moon. Except for some lava lizards and lava cacti, you will not find much wildlife onshore. However, the snorkeling site around the Pinnacle Rock is one of the best in Galapagos to observe rays, fish and reef sharks. If you are lucky, you might even sight one of the penguins that live in the area.
Fast Facts
Moon-like scenery and stunning views
Excellent snorkeling site
Possible activity
Dinghy ride
Daphne Islands
The islands Daphne Major and Daphne Minor are located just north of Santa Cruz and west of Baltra Island. There is no visitor site on Daphne Minor, and to set foot on Daphne Major, a special permit is required. Daphne Major is a large tuff cone, and Daphne Minor has a rather rectangular shape. Daphne Major is often visited at the beginning or the end of a cruise due to its proximity to the airport of Baltra. During a dinghy ride along its coast, you can observe nesting seabirds like blue-footed boobies.
Fast Facts
Land visits only for scientists with special authorization
Nesting seabirds
Scuba diving sites
Possible activities
Dinghy ride
Hiking
Snorkeling
Chinese Hat Island
Sombrero Chino Island receives its name from its peculiar shape that resembles a traditional Asian farmer's hat. Chinese Hat Island is one of Santiago Island's many satellite islands and lies to the southeast of it. Ashore, you can watch sea lions, marine iguanas, and lava tunnels. During a snorkeling session in the crystal-clear water, you can observe reef sharks and other fish. A small colony of penguins lives in the area, and if you are lucky, you might sight some of its members.
Fast Facts
Outstanding landscape
Great snorkeling site
Possibility to see penguins
Possible activity
Dinghy ride
Hiking
Snorkeling
North Seymour Island
The island is located north of Baltra Island and stretches over 1.9 square kilometers. In spite of its rather small area, North Seymour is home to a large number of animals. One of the largest colonies of blue-footed boobies lives here, and you can observe both great and magnificent frigate birds nesting. North Seymour is also home to numerous land iguanas. Land iguanas are not native to North Seymour Island but were relocated from Baltra Island by scientists in the 1930s to provide this species with better living conditions.
Fast Facts
Abundant wildlife (land iguanas, nesting seabirds)
Location: Center of the Galapagos archipelago
Possible activities
Hiking
South Plaza Island
The Plazas Islands lie east of Santa Cruz in the center of the Galapagos archipelago. While no visitors are allowed on North Plaza, South Plaza is one of the smallest islands featuring a visitor site. During your visit to South Plaza, you will cover approximately half of the entire island. Despite its small size, the island is home to many animal species and an extraordinary flora. Besides the large colony of sea lions, you can observe land, marine, and the unique hybrid iguanas. The landscape is dominated by the Opuntia cacti and the succulent Sesuvium, which changes from green in the rainy season to red during the dry season (June through January).
Fast Facts
Land, marine, and hybrid iguanas
Remarkable vegetation
View Our Galapagos Holiday Packages
928 km from the Mainland
7970 km2 – Area of the Galapagos National Park
138000 km2 – Area of the Galapagos Marine Reserve
176 Visitor Sites To Explore
Our friendly travel experts are ready to answer your questions!