Capture the Essence of the Galapagos Islands
Embark on a once-in-a-lifetime adventure with our 5-day Galapagos Island Hopping Tour. This trip offers the perfect way to experience some of the best islands of the Galapagos in a limited time, along with an incredible opportunity to explore the stunning natural beauty, unique wildlife, and fascinating culture of the region.
Immerse yourself in the unparalleled beauty of the Galapagos Islands while enjoying personalized and comfortable accommodations tailored to your budget. Our vacation package is designed to cater to outdoor enthusiasts and nature lovers of all kinds, with a wide range of options available from budget-friendly to deluxe class hotels. No matter your choice, you can experience the unique and unforgettable wonders of the Galapagos with us.
Why You Will Love This Vacation Package
Explore the lush highlands of Santa Cruz Island
Discover uninhabited sites with abundant flora and fauna
Relax on a boat as you glide through crystal clear waters and observe marine life from above
Don't worry about linguistics, as you'll be accompanied by certified bilingual English and Spanish speaking guides on all tours
Enjoy a day of independence and take a self-guided stroll through the town of Puerto Ayora, where you'll find many shops and restaurants, just a short walk away from your hotel
Experience a great mix of land and sea activities, meet iconic wildlife and unwind at beautiful beaches
Choose the best accommodation package to suit your budget - there's something for everyone!
Click the Tabs for More Information
| Service category | Solo traveler | 2 travelers* | 3+ travelers** |
| --- | --- | --- | --- |
| Budget class | USD 1585 | USD 1190 | USD 1100 |
| Mid-range class | USD 1780 | USD 1335 | USD 1250 |
| First class | USD 2230 | USD 1560 | USD 1455 |
| Deluxe class | Upon request | | |
Rates are per person.
*Two travelers: double accommodations
**Three or more travelers: double or triple accommodations
Hotel Examples
| Budget class hotels | Mid-range class hotels | First class hotels | Deluxe class hotels |
| --- | --- | --- | --- |
| Hotel Galapagos Native | Hotel Plaza Luna | Ikala Galapagos Hotel | Finch Bay Galapagos Hotel |
| Coloma Hotel | Galapagos Suites | Hotel Cucuve | Pikaia Lodge |
| Casa Redonda | Hotel Mainao | Acacia Galapagos Hotel | Royal Palm Galapagos |
---
Departure time
Dependent on flight schedule
---
Meeting point
Baltra Airport Arrivals Hall
---
Location of hotel accommodation
Puerto Ayora, Santa Cruz Island
---
---
---
Group size
Transfers and tours on Santa Cruz Island are private, boat tours are shared tours with a maximum of 20 guests.
---
Included
Airport transfers from Baltra to Puerto Ayora and return to Baltra
→Baltra bus shuttle
→ Itabaca Channel ferry
→Private transportation on Santa Cruz Island
Visits and activities according to itinerary
→ Bilingual English- and Spanish-speaking certified naturalist guide
→ Entrance fees
→ Snorkel equipment (mask and tube) on boat tours
4 nights in Puerto Ayora
→ Breakfast
→ Lunch on days 1, 2 and 4
---
Not included
Airfares
National park fees
→ Galapagos National Park entrance fee ($100 per person, to be paid at Baltra airport)
→ TCT migratory control card ($20 per person, to be paid at Quito or Guayaquil airport)
Water taxis to and from the day tour yachts ($1 per person per ride)
Additional activities, transportation and other services not previously mentioned as included
Additional meals and beverages
Tips
Travel & health insurance
VAT for Ecuadorian travelers
---
What to bring
Original passport
Shorts and fast-drying slacks
T-shirts and long-sleeved shirts of fast-drying materials
Comfortable walking shoes
Thongs or sandals for wet landings
Wind-breaker or light rain jacket
Hat with a brim
Sunglasses with UV protection
Bandana to cover the back of your neck from the sun
Bathing suits
Sun block (SPF30 or higher)
Lip balm (SPF30 or higher)
Insect repellent (mosquitos are not Malaria carrying)
Multi-purpose zip-lock bags
Reusable water bottle
Tour staff
Bilingual English and Spanish speaking naturalist guides certified by the Galapagos National Park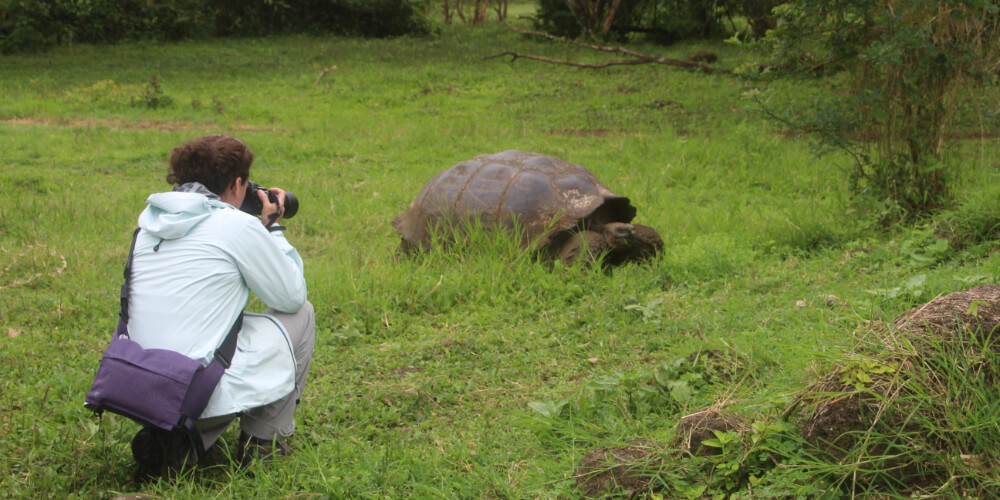 Day 1 – Welcome to the Enchanted Islands – Arrival at Baltra Airport
Your guide will be waiting for you at the arrivals hall, and as soon as you meet them your Galapagos adventure will start. You'll take the bus shuttle from the airport to Itabaca Channel that separates the islands Baltra and Santa Cruz. Keep your eyes open, as you might already spot some Darwin's finches. Next you'll board a ferry for a swift transition from Baltra Island to Santa Cruz Island. During the crossing, which only takes a few minutes, you will have the opportunity to already spot iconic Galapagos wildlife, such as sea lions, marine iguanas and different sea birds. You'll then continue in a car ride from the arid coastal region to the evergreen highlands of Santa Cruz Island.
Together with your English speaking naturalist guide, you'll walk through a ranch in the highlands for your first sighting of the unique Galapagos giant tortoises. If you are lucky, you might see some of these gentle giants taking a relaxing mud bath. Besides the giant tortoises, you can also observe wading birds, Darwin finches and ducks. Another highlight in the highlands are the lava tunnels, through which you can walk. Your guide will explain how these formed. After lunch, you drive to Puerto Ayora, Galapagos' largest town, where you check into your hotel.
Meals included: Lunch
---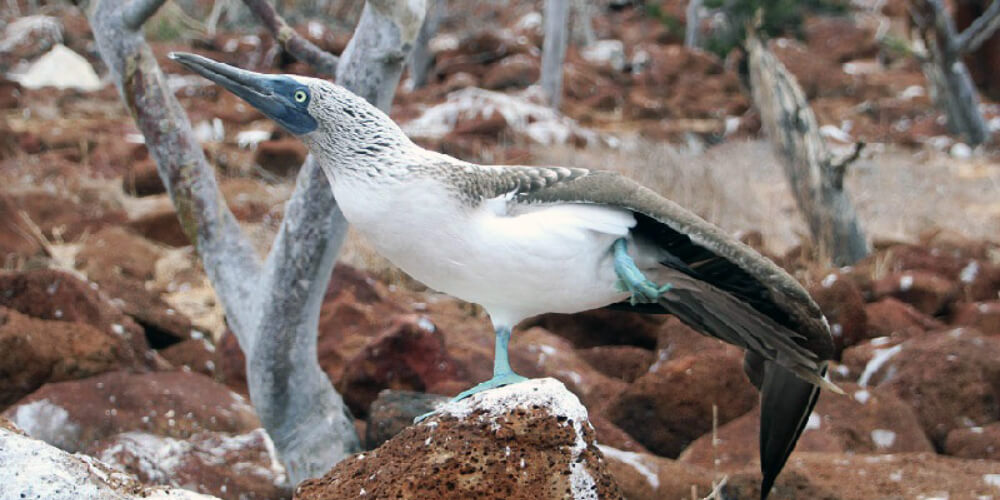 Day 2 – Galapagos Wildlife: Unique and Abundant – North Seymour Island Boat Tour
Today you'll join a boat tour to an uninhabited island. Below is the tour description for the boat tour to North Seymour Island, which we usually recommend, but it is possible to change it to Bartholomew Island (famous for its "Pinnacle Rock", great for snorkeling, and penguin sightings) or South Plaza Island (marine and land iguanas, sea lions and coastal birds).
After an early breakfast, you will meet up with the tour group at the Puerto Ayora passenger pier, which is a short walk away from your hotel. From there, you will be driven to the northern coast of Santa Cruz Island where you'll board the day tour yacht. The yacht will navigate north until you arrive at North Seymour Island after about 45 minutes. There you will disembark and hike from the rocky cliffs to the arid inland and then to a sandy area. On the way, you will observe different sea birds like the iconic blue-footed boobies and the endemic swallow-tailed gull. With some luck, you can even spot frigate birds with their red pouches inflated and land iguanas. At the end of the trail, you'll meet curious sea lions before getting back on board the yacht.
While you enjoy lunch on board, the yacht will navigate to Bachas Beach at the northern shore of Santa Cruz Island. In the afternoon you'll disembark at the beach where your guide will explain the odd origin of this visitor site's name. During a walk along the sandy beach, you will observe different shore birds, as well as crabs such as Sally Lightfoot, and maybe some marine iguanas. Instead of a stroll along the beach, you can also choose to go swimming and snorkeling, to observe an array of fish, rays and even turtles.
Once this tour wraps up, you will board the yacht and return to Itabaca Channel. From there, you will be driven back to Puerto Ayora, returning to your hotel at around 4:30 PM.
Meals included: Breakfast, lunch
---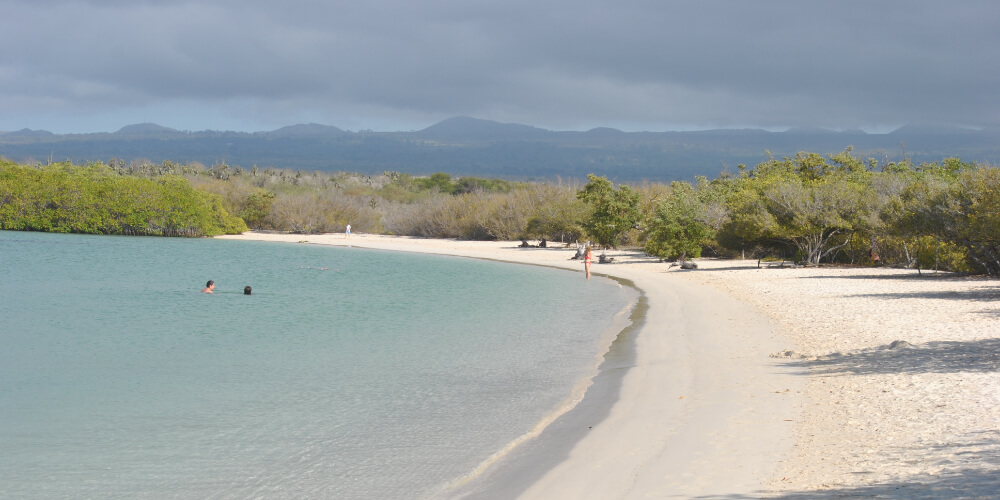 Day 3 – Paradisiac Beaches and Natural History – Free day
Today you will have the opportunity to explore Santa Cruz Island on your own. We recommend a visit to the paradisiac beaches of Tortuga Bay during the morning. This is a great hiking opportunity as it lies approximately 45 minutes outside of Puerto Ayora, allowing you to explore native flora along the way. Once you arrive at the beach you can take a dip and swim in the calm bay surrounded by mangroves, where the water is shallow and crystal clear. For some extra fun you can rent kayaks at local stalls near the beach as well. Look out for marine iguanas, coastal birds, sea lions and even white-tip reef sharks that inhabit the area.
On your way back to Puerto Ayora, we recommend a stop at "Laguna de las Ninfas". This brackish pond is surrounded by three species of mangroves and home to ducks and other birds. For the afternoon, we recommend a visit to Charles Darwin Station, which is located an easy 20-minute walk from most hotels. On the way, you can pass by the fish market, where not only vendors and buyers gather, but also hungry pelicans and sea lions. At Charles Darwin Station, you can explore the interpretation center and the breeding center for giant tortoises.
Meals included: Breakfast
---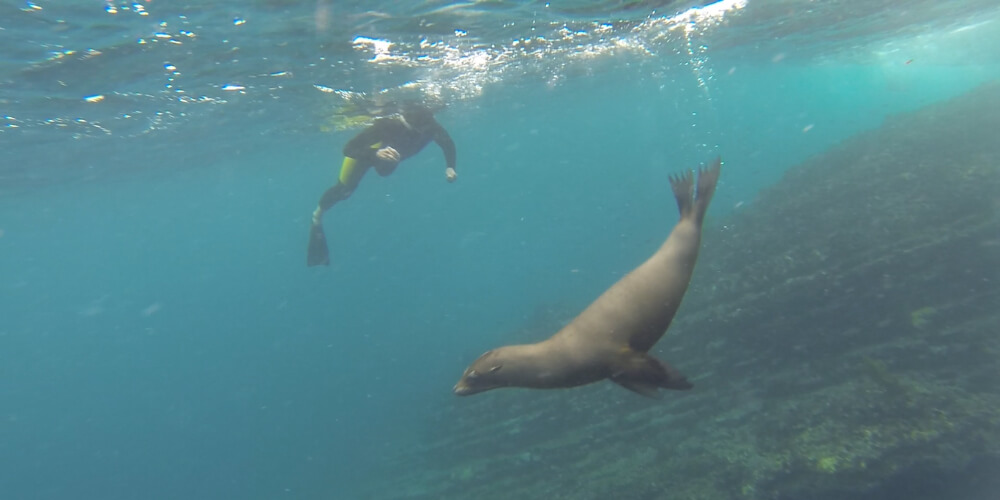 Day 4 – Underwater Marvels – Snorkel Tour
Today you will join another group tour for a snorkel adventure at Pinzon Island. You'll meet with the group and your guide at the passenger pier in Puerto Ayora after an early breakfast. You'll embark on the day tour yacht and travel to Pinzon, a small island that lies off the western coast of Santa Cruz Island. It's not possible to go on land, so this snorkeling adventure happens straight off the boat so you can take advantage of the island's great snorkeling sites. You'll have the opportunity to observe colorful fish, sea lions, sharks, turtles and rays. Depending on your travel dates, you may even spot Galapagos penguins that frequent a snorkeling site known as Penguin Bay during colder months.
After snorkeling you'll enjoy lunch on board the yacht while you navigate a short distance to La Fe Bay at the western shore of Santa Cruz Island. Here you'll disembark in the afternoon and go for a stroll on the beach. Before returning to Puerto Ayora, an optional activity you can do is fishing from the boat. Your return to the Puerto Ayora passenger pier will be at around 4 PM.
Meals included: Breakfast, lunch
---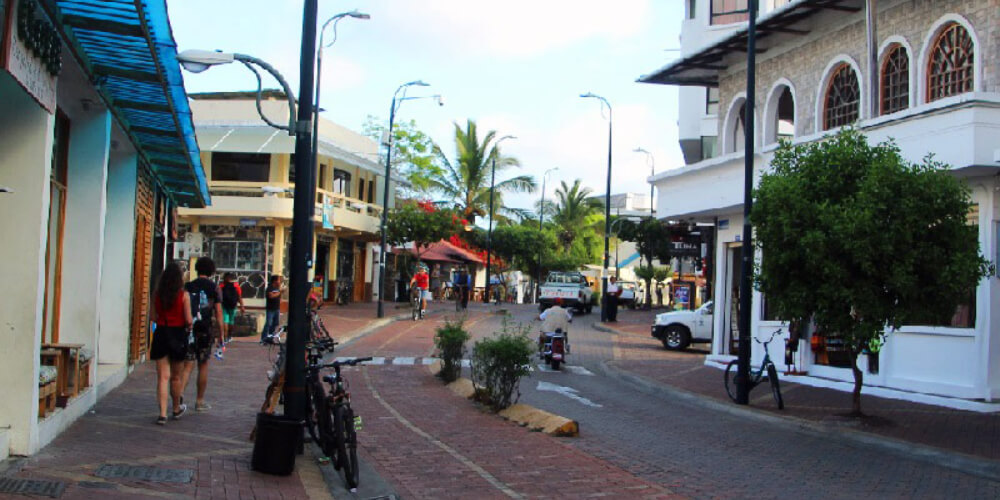 Day 5 – Return to the mainland
If you still have some time before your flight back to the mainland, we recommend you take a stroll along the port's promenade, where you can often observe amusing scenes like sea lions sleeping on benches. At the agreed upon time (usually 3 hours before flight departure), your driver will pick you up from your hotel and take you to Baltra airport.
Meals included: Breakfast
The specific hotel and the order of the tours will be confirmed at booking.
The itinerary is subject to change in case of circumstances out of our control. These may include bad weather conditions, late arrival of flights, orders of the national park, amongst others.
Midland Travel recommends all passengers to have travel insurance that includes personal medical insurance and trip cancellation.
A holiday surcharge may apply for Easter, Christmas and New Year's departures.
If you have any food restrictions, special health requirements or needs, please let us know in advance.
Level of difficulty: Moderate
Our vacation packages can be adjusted to your needs and preferences, please contact us to receive a personalized offer.
See What Previous Adventurers Have Said About Our Tours
More Galapagos Tours For You
---